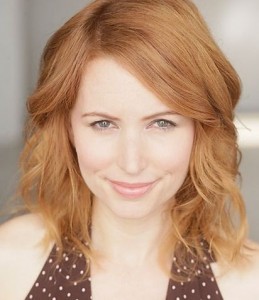 An actress, writer, journalist, and new media producer, Tamara Krinsky studied theater and communication at Northwestern University, and earned her SAG card on Star Trek: First Contact. Acting adventures include TV shows such as Charmed, Seventh Heaven and Sofia the First; web series Guacamole, Back on Topps and The Shaman; and numerous theater projects. She is an Ensemble Member of the award-winning classical Antaeus theater company.
Tamara is a sought after on-screen host, and currently works for Marvel Entertainment, anchoring their live premiere shows for movies such as The Avengers and Guardians of the Galaxy. She also works with The Red Carpet Report, covering the Oscars, the Emmys, premieres and special events. Tamara hosted the weekly tech show The Spotlight for TomsGuide.com, was a correspondent for PBS's Wired Science and was a Webby honoree for the indie film series At the Fest.
As a writer, Tamara's specialties include entertainment, science & technology and the motherhood & lifestyle spaces. She was the Associate Editor for Documentary Magazine, and has been published in/on Variety, Filmmaker Magazine, Ms In The Biz, Tubefilter.tv, indieWire and ScientificAmerican.com, among others. She recently earned her first WGA script writing credits on the acclaimed digital series Emma Approved, and is currently combining her love of science and entertainment by writing transmedia content for Frankenstein, M.D. (PBS Digital/Pemberley Digital), a modern day take on the Frankenstein story. When she has time, she blogs about the collision of art and science on her own blog Science Lush.
Tamara has been deeply involved in the digital content industry behind the scenes as well as onscreen.  She was the New Media Program Manager at the Writers Guild of America, West; and a Producer at entertainment marketing firm Crew Creative, where she strategized and produced online content for clients such as Discovery Channel and Overture Films. She honed her cinematic eye working extensively with film festivals as a programmer and event producer, including HBO's U.S. Comedy Arts Festival, AFI FEST, the Maui Film Festival and the Los Angeles Film Festival. In her free time, Tamara is a (very slow) marathon runner, baker and TV junkie.
Why I Love Science
"I don't know anything with certainty, but seeing the stars makes me dream."
         – Vincent Van Gogh

I blame my dad.

I spent my childhood stealing the Isaac Asimov books off his shelves, which sparked my curiosity about the universe and made me begin asking "what if" and "why," even if I didn't always understand the "how." Luckily, my folks allowed me to experiment with everything from kitchen chemistry kits (yay explosions!) to pulling all-nighters to watch eclipses. I took a hiatus from science while pursuing my theater degree, but then my interest was reignited when I became obsessed with the Human Genome Project and all the ethical conversations around it. This eventually resulted in writing and performing Egg Child, a one-woman show about stem cell research. I am excited and intrigued by the moral repercussions of new STEM discoveries and the way they work themselves into our culture, our politics and our every day lives. Science is unique in that it allows us to project ourselves years into the future and imagine what it might hold, which in turn then allows us to reflect on what kind of people we want to be in the here and now.