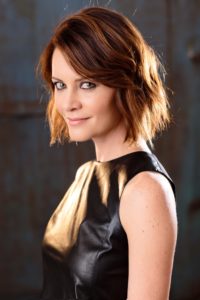 Taryn O'Neill is an actress, writer and new media producer. Born in Vancouver Canada, she spent her childhood as a competitive figure skater and was a national medalist in Ice Dancing. She graduated from Duke University with a degree in Economics, Theater and Film, the latter bringing her to LA to spend a semester at The USC Film School. She spent her early years in Hollywood at the William Morris Agency and Alliance Atlantis Communications before transitioning into acting. She has worked on numerous commercials and such TV shows as NCIS, Vegas and Lie to Me before being cast as the recurring character 'June Sanders' on BYUTV's 1960's family drama Granite Flats.
In the midst of pursuing her acting career, Taryn became an early pioneer in New Media producing the 2009 Streamy nominated scifi web series After Judgement and its follow up Hurtling Through Space at an Alarming Rate. She has also acted in over 20 web series including the award winning show Compulsions, for which she won Best Supporting Actress at the Indie Soap Awards in 2010. Producing inspired her to add script writing to her repertoire. She most recently she wrote a full length digital series for the incomparable Stan Lee and his "World of Heroes" YouTube channel and has numerous web and tv projects in development, scifi being her genre of choice. Her love of scifi inspired her to study the science behind the fiction and her research developed into a full passion for numerous STEM fields, with the ultimate goal to increase scientific interest and literacy through entertainment. This passion has culminated in the formation of Scirens. In her free time she writers for both Women in Entertainment site MS. IN THE BIZ and her own blog Operation B.A.B.E , geeks out over her favorite TV shows, obsesses over her online shopping addiction and trains in Martial Arts. You can also find her on Twitter.
Why I love science
"Science is the poetry of reality." Richard Dawkins

It took me a while to find science; for almost 3 decades of my life I feel like I lived with a filmy veil shrouding my eyes. But once science took hold, the curiosity it injected into every neuron of my brain took hold with abandon. Why do I love science? Because I can walk through the world with a knowledge of the mechanics of my stride and breath, understand where I am (in relativistic terms), and how I got there. It affords me the critical ability to navigate through this neo techno jungle we now inhabit, filled with irrational sound bites, where I can contemplate the reality of our exciting yet challenged future. But it also allows me to simply stand there and look up in awe, stunned by the beauty and the mystery of existence. Science offers me power to ask why, and why not.