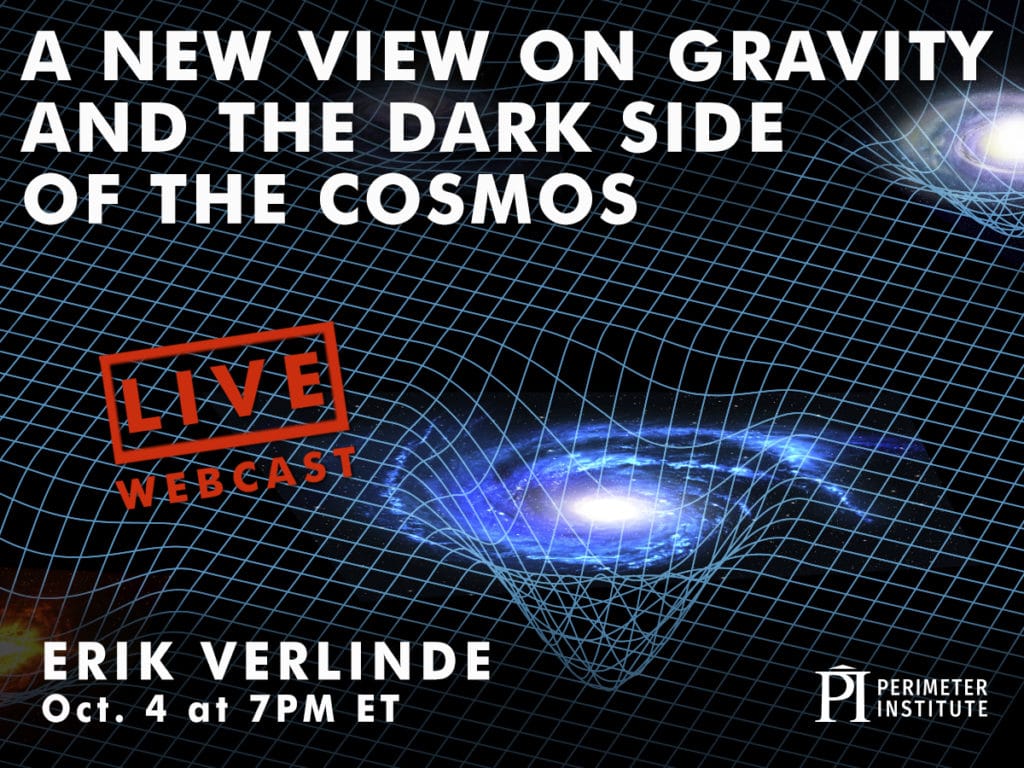 Scirens.com is proud to partner with Perimeter Institute for a new season of public lectures beginning with a discussion of a new view on gravity and the dark side of the cosmos. Join physicist Erik Verlinde on Wed., Oct. 4 at 4PM PT (7PM ET) for this exciting event. 
Are we standing on the brink of a new scientific revolution that will radically change our views on space, time, and gravity?
In most circumstances, the theories of Einstein and Newton adequately describe gravity, but on cosmological scales, big questions arise, particularly surrounding the nature of dark matter and dark energy.
These questions are ushering in a revolution in theoretical physics – a completely new view on spacetime and gravity. Research in string theory and black hole physics, involving key concepts of quantum information theory, reveals a deep connection between the structure of spacetime and the origin of gravity.
This research suggests that gravity is not a fundamental force of nature, but rather an emergent phenomenon, similar to how temperature is an emergent phenomenon that arises from the movement of particles. That is, gravity is a side-effect, not a cause, of what happens in the universe.
In his October 4 public lecture at Perimeter Institute, Dr. Erik Verlinde (University of Amsterdam) will explore the core ideas behind this research, and examine the implications of this fast-emerging revolution in our understanding of the universe.
Following the talk, Dr. Verlinde will answer questions both from the in-house audience and from Facebook and Twitter (using the hashtag #piLIVE). Questions are welcomed from everyone – aspiring scientific explorers, school classes, physics and chemistry buffs, and general science enthusiasts.
WATCH THE WEBINAR
WATCH THE SEASON TRAILER
ABOUT PERIMETER
Perimeter Institute for Theoretical Physics (PI) is an independent, non-profit, scientific research organization working to advance our understanding of physical laws and develop new ideas about the very essence of space, time, matter, and information. Located in Waterloo, Ontario, Canada, PI also provides a wide array of research training and educational outreach activities to nurture scientific talent and share the importance of discovery and innovation among students, teachers, and the general public. http://www.perimeterinstitute.ca and @Perimeter.