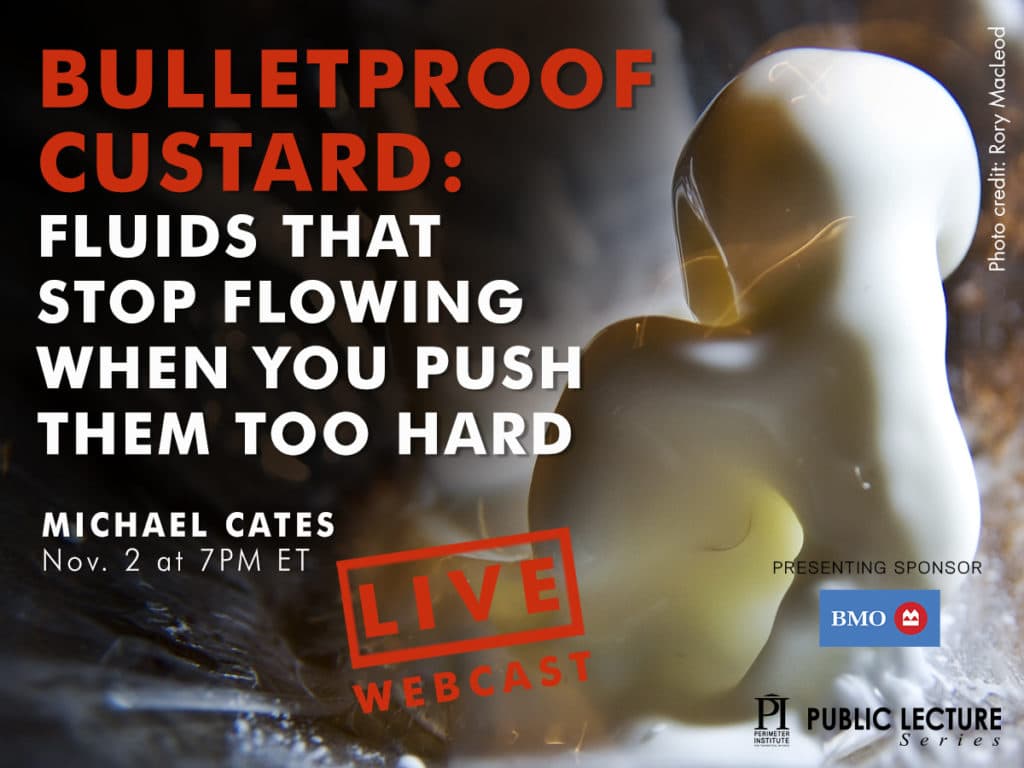 Scirens.com is proud to partner with Perimeter Institute for the return of their public lecture series discussing soft matter – specifically Non-Newtonian Fluids – with a few equations, plenty of diagrams, and hands-on demonstrations. Join Dr. Michael Cates on Wed., Nov. 2 at 4PM PST (7PM EST) for this exciting event. 
How do you make custard bulletproof? The short answer: with soft matter physics. Unlike most common materials, soft matter has strange properties that allows it to change its state – from liquid to solid, for example – under certain conditions. Soft matter research touches on food production, the development of building materials, and yes, the manufacture of life-saving technologies like bulletproof vests (though they probably won't be made of custard).
The Lucasian Professor of Mathematics at the University of Cambridge, Cates is an expert on the theory of soft matter, such as polymers, colloids, gels, liquid crystals, and granular material, as well as the burgeoning field of "active matter." He is also the Principal Investigator of an Engineering and Physical Sciences Research Council (EPSRC) Programme Grant that focuses on design principals for new soft materials. Cates was previously a Professor of Natural Philosophy and Royal Society Research Professor at the University of Edinburgh.
Following the talk, Dr. Cates will answer questions both from the in-house audience and from Facebook and Twitter (using the hashtag #piLIVE). Questions are welcomed from everyone – aspiring scientific explorers, school classes, physics and chemistry buffs, and general science enthusiasts.
WATCH THE WEBCAST
WATCH A PREVIEW OF THE WEBCAST
WATCH THE SEASON TRAILER
ABOUT PERIMETER
Perimeter Institute for Theoretical Physics (PI) is an independent, non-profit, scientific research organization working to advance our understanding of physical laws and develop new ideas about the very essence of space, time, matter, and information. Located in Waterloo, Ontario, Canada, PI also provides a wide array of research training and educational outreach activities to nurture scientific talent and share the importance of discovery and innovation among students, teachers, and the general public. http://www.perimeterinstitute.ca and @Perimeter.