Happy first day of fall! We're excited to share our STEAM-y news with you.
SHOOT WITH ELISABETH CAREN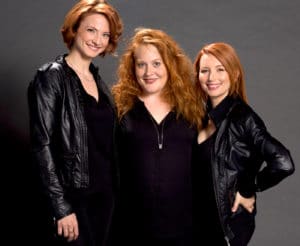 The stars aligned when award-winning photographer Elisabeth Caren came on board to shoot our first official Scirens press photos! We couldn't be more thrilled with the looks she created and captured (plus, she's a total joy to work with–not to mention a fellow redhead!).
We are excited to release the first few shots from the shoot–one of which we were able to use to support Loreal's For Women in Science campaign. Stay tuned for more pictures. Thank you, Elisabeth!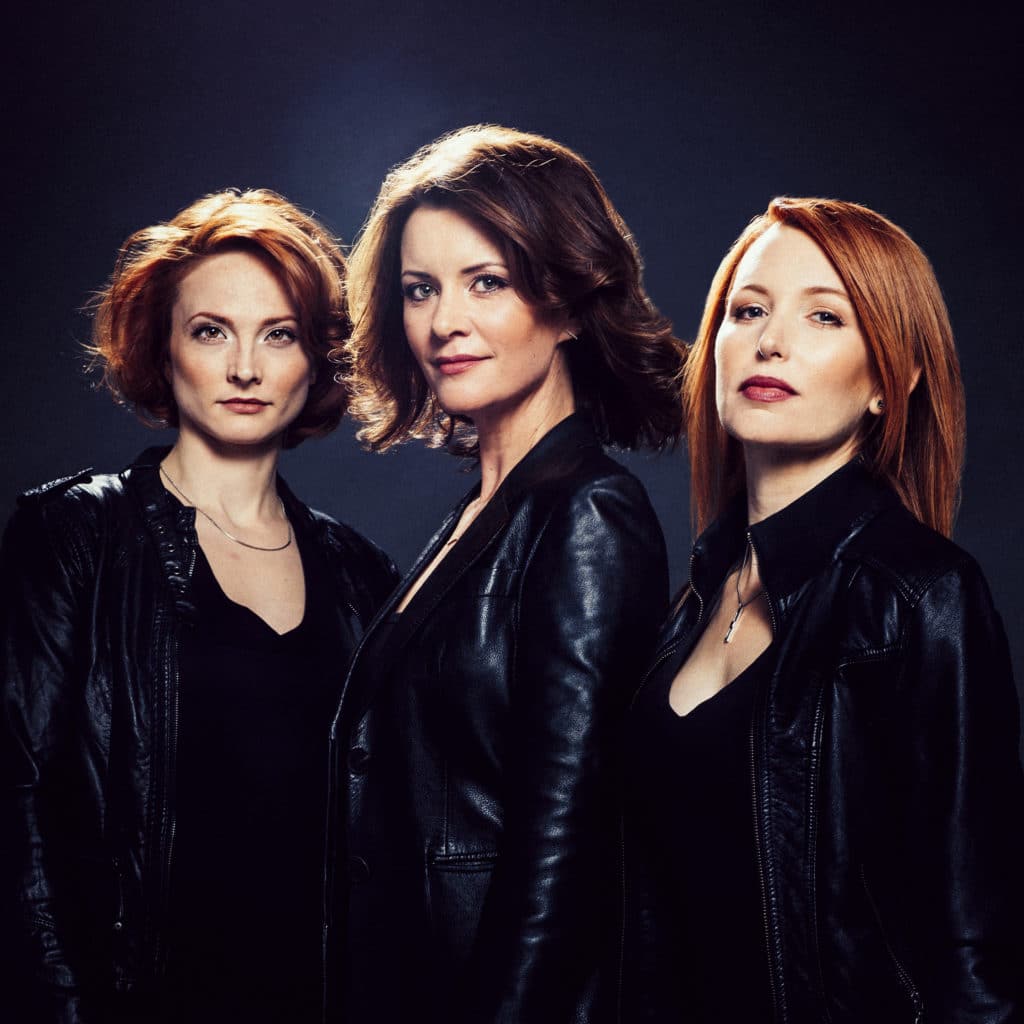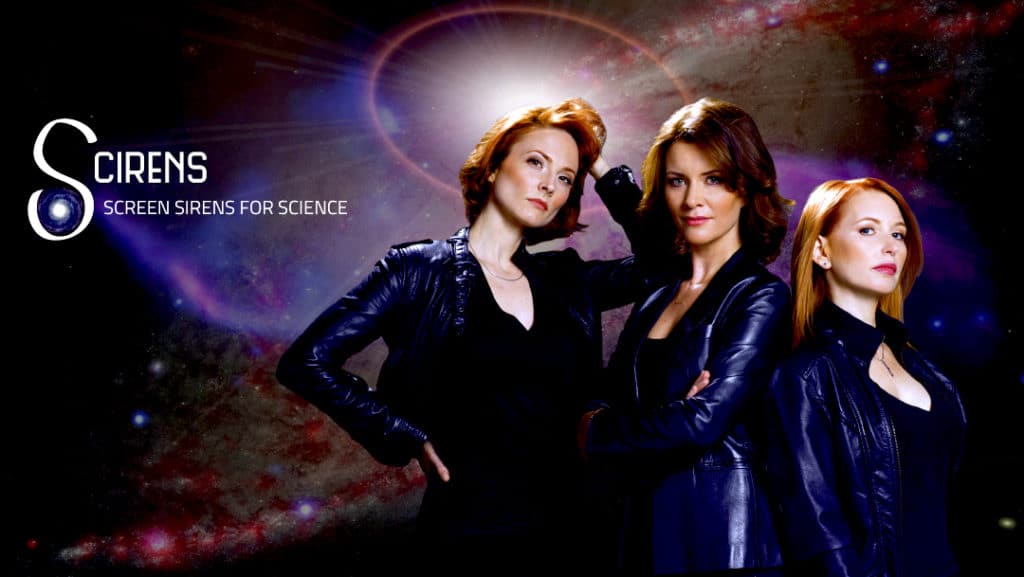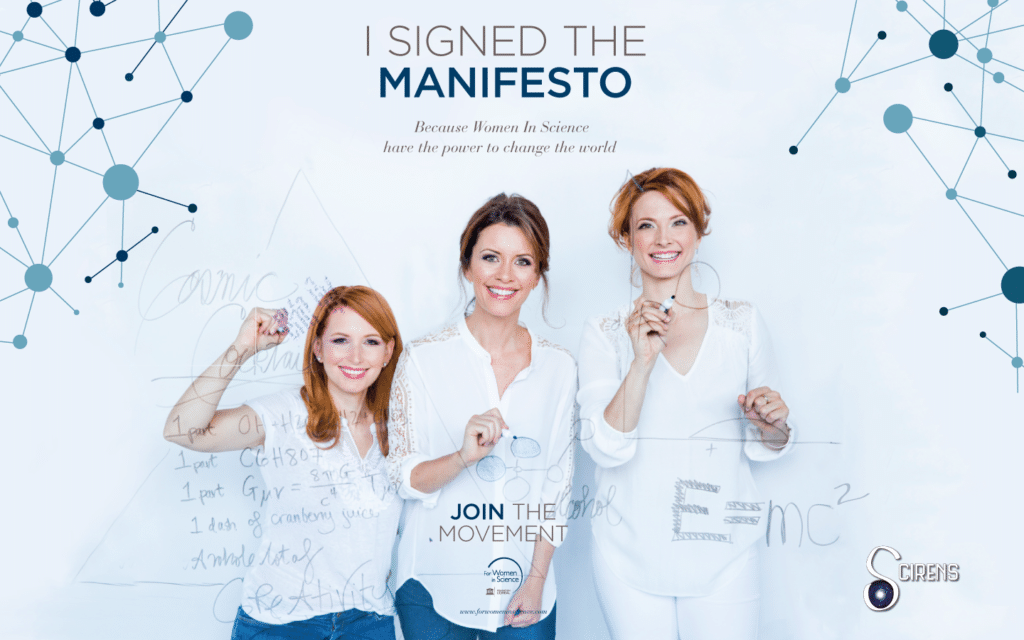 PODCASTS
What do you get when you put five smart women around a couple microphones? Fifty minutes of hilarious, heartfelt discussion about the intersection of art and science. Take a listen to our conversations with both The Women of Marvel and Slice of SciFi.
ELEMENT A DAY IN MAY
We had too much fun writing and shooting these short videos for Everyday Science TV. Thanks, Jessie Hendricks, for having us on! Taryn took on hassium head on, Tamara vindicated vanadium, and Gia sang Nickelback… uh, gave a nod to nickel. Below is our trifecta take on tellurium. Enjoy!
SCIRENS' SELECTS
If you haven't yet seen our new feature, Scirens' Selects is a curated list of what's gotten our brains buzzing each month. Check out Taryn's June Picks and Gia's July Picks, and Tamara's August Picks.
RECENT ADVENTURES
Thank you for all the Twitter and Facebook love! In case you missed anything, here's a recap of a few of our goings on:
Einstein's Girl (a.k.a. Gia) made an appearance at MUSE/IQUE's Perfect/Union at Caltech talking about the connections between music, science, and love.
She's also writing an original song for Brains On, a science radio show for kids, which is schedule to air in October. In the meantime, check out her Music Monday series on YouTube.
Tamara co-hosted Marvel LIVE! at San Diego Comic-Con. During her four days of interviewing superheroes & heroines, comic book writers & artists and Marvel luminaries, she was able to bring some science to the broadcast when she interviewed NASA astronaut Kjell Lindgren. Special thanks to Bobak Ferdowsi for facilitating the interview!
Tamara also shot the pilot "Inventionland: Tomorrow's World Today" for the Science Channel and Accord Productions. The show explores innovation, technology, and creative entrepreneurship.
Pull up your iCal and mark this Monday, September 26th at 11/10c on National Geographic channel as Taryn makes a guest appearance (via Skype!) on none other than Neil deGrasse Tyson's StarTalk TV! The episode features Mayim Bialik and guest hosts Summer Ash and Chris Hardwick discussing Women in STEM and their representation in media.
Taryn has also been teleporting between LA and Vancouver for auditions, shot a national commercial, and continues to work on her numerous science inspired scripts.



As always, thanks for your support and enthusiasm for what we do. We're looking forward to falling into more STEAM-y adventures this autumn. We're turning to Leonard Da Vinci for inspiration. Feel free to share this badge with the hashtag #FullSTEAMAhead!
Yours, in pumpkin spice,
The Scirens