Taryn here! Welcome to my September/October list of brain sparking articles, videos, and books at the intersect of Entertainment and STEM that we call Scirens' Selects. As we enter into the final month of the election cycle, I keep thinking on how future societies will look back to the events of this year. How will this period in time, our actions, be judged? How will they be remembered?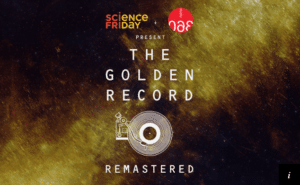 1. THE GOLDEN RECORD: REMASTERED (VIDEO)
These questions bring me to my first select. In 1977, Voyager was launched on its one way mission to explore our solar system and beyond (confirmed to have entered interstellar space last year). Included in that spacecraft was a golden record containing the sounds, music and images of Earth and humanity, assembled 40 years ago by a Carl Sagan led team. With the 40th anniversary of the launch next year, a collaboration of Science Friday and Studio 360 held an event to discuss what would be included on a 'record' (ie. a USB drive) if sent out today. This video is a wonderful discussion between some of our favorite big thinkers, Kurt Andersen, Ira Flatow, Maria Popova, and Terrence McKnight on art, science and exploration, with live performances of classical music contained on the original record. There is also an opportunity to add your own 'golden record' suggestions through this site.
2. CLIMATE CHANGE IS A TERRIFYING THREAT TO HUMANITY AND DONALD TRUMP IS ONLY MAKING IT WORSE by Rachel Bloom. Cosmopolitan. Oct. 2016.
Our most important political process has turned into a 24/7 reality show, where barely a mention of climate change graces a presidential debate. We are currently threatened by a candidate who would pull us out of the Paris Climate Agreement! This scary possibility is being overshadowed by scandal after scandal, so we are thrilled to see a fellow science enthusiastic actor pick up the mantle and champion the importance of climate change awareness and action. Please check out CRAZY EX-GIRLFRIEND creator and star Rachel Bloom's passionate essay on climate change on Cosmopolitan.com. I hope to hear more from her on these topics (and personally think that Gia should be on her show, don't you?!)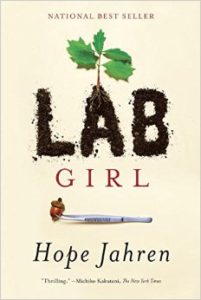 3. LAB GIRL by Hope Jahren.
Another multi-hyphenate I am completely enamored and inspired by Hope Jahren's story and talents. A geochemist, biologist, professor and incredible writer, her book LAB GIRL is my favorite book so far this year. Equal parts love letter to the silent power of nature and a memoir of her unique, often dark journey through the male-dominated hallways of academia, it had my heart singing, brain spinning and my eyes welling with tears. I can't recommend it strongly enough.
4. 2016 RAW SCIENCE FILM FESTIVAL
We're in the midst of writing a number of STEM infused TV projects so are really excited by this festival! If you are a #SciArt creator and have a film inspired by science that you want to get out to the world, check out the Raw Science Film Festival. Submissions for all types of science-based scripted and nonscripted films and shorts are open until November 8th. The awards ceremony and screening is on December 10th at Fox, tickets are available. We deeply believe that entertainment is the best vehicle to inspired STEM literacy and inspire a future generation.
5. MUSIC'S SALVATION MIGHT BE SELLING NOT SONGS, BUT VR by David Pierce. WIRED. September 10, 2016.
Speaking of the future, VR and AR have now become THE mainstream media discussion topic. With Google's new Daydream viewer, Playstation's VR headset and of course Facebook's Oculus, every media company is trying to crack the code as to how to take advantage of this new immersive platform. (Digital Hollywood dedicated it's upcoming conference exclusively to it.)  I found this Wired article to be an insightful overview and it's underlying point that people with pay for a rich enough 'experience' is a significant one where a younger generation is used to its content for free.
6. THE UNBREAKABLE GENIUS OF MARK ZUCKERBERG. By Dave Gershgorn. Popular Science. September/October 2016.
The future may be in VR but we don't want the future of our entertainment experience to be a solo one, all sitting in our individual (haptic enabled) chairs by ourselves. This excellent Popular Science piece on Mark Zuckerberg explores his vision of VR as the future platform of all computing… I was electrified by the trip inside his head… and also slightly terrified that the Facebook AI is learning via our posts.
7. STEM EDUCATION IS VITAL — BUT NOT AT THE EXPENSE OF THE HUMANITIES. SCIENTIFIC AMERICAN Editors. August 2016
When my career path is especially rough, I find myself wishing that I had pursued a degree in a STEM field. A degree in Engineering or computer science would be so useful and beneficial! A job guaranteed! And indeed as Scirens we champion the importance of STEM literacy and education in schools to prepare the next generation for the challenges ahead. However this article reminded me of the power that my arts degree has had in my life and career, the ability to properly communicate ideas, the importance of creativity and design, especially when coupled with STEM. I am grateful to the editors of Sciam for reminding me.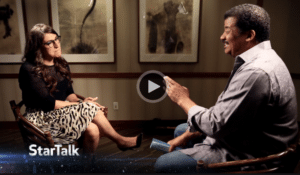 8. STARTALK TV WITH NEIL DE GRASSE TYSON:  WOMEN IN SCIENCE ON TV (Ep. 302).
And last but not least, I should really include a fantastic episode of Startalk TV as it's a topic near and dear to my heart AND I GUESTED ON IT! (well if only for a few minutes but still!) I'm so grateful to be a part of an episode that explored how women scientists are portrayed on TV. The main guest was actress and neuroscientist Mayim Bialik from Big Bang Theory and astrophysicist Summer Ash and Nerdist host Chris Hardwick co-hosted. Watch it online with a cable subscription and watch the rest of the season on Natgeo.
And that's it from my corner of the universe… Remember to leave your legacy by voting in this election! (Your planet needs you). Tweet or Facebook me with your comments and any of your own favorite new brain sparking links! See you next month. #scirensselects