Greetings from Los Angeles, where we're having a HOT, HOT, HOT summer (thanks, climate change!). But we're always happy to have STEAM-y news to share, so here's the latest on what we've been up to over the last several months!
ELEMENT A DAY IN MAY
This spring, we returned for an encore guest-hosting performance on Jessie Hendricks' Everyday Science TV. We had a blast writing and shooting these videos on heavy metals. Between creative sunscreen application and failed cereal experiments, zinc and iron have never been so much fun!

THE SCREENING ROOM
We like watching and talking about movies and television almost as much as we like making it! Here's our take on Alien: Covenant and National Geographic's Genius. A huge congratulations to the latter on its three Emmy nominations in the categories of Outstanding Limited Series, Outstanding Lead Actor in a Miniseries or Movie (Geoffrey Rush as Einstein), and Outstanding Directing for a Miniseries, Movie or Dramatic Special (Ron Howard).  

RECENT ADVENTURES
Thank you for all the Twitter and Facebook love! In case you missed anything, here's a recap of a few of our goings on: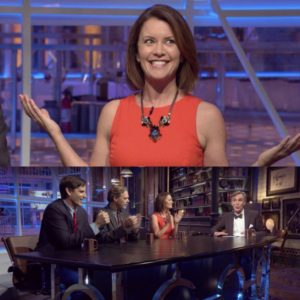 Taryn was featured on the Netflix series

Bill Nye Saves the World

on its climate change episode: 'The Earth is a Hot Mess'. She was part of a panel that discussed nuclear and renewable energies, and the problems facing these alternative power sources.

She spent five weeks this spring in Montreal time traveling to the 1990's to shoot the co-lead in the comedy series 'MOOOOM!' for

Black Pills TV

. The series will be released in late summer / early fall — stay tuned!
Tamara engaged in some time travel of her own this spring, firmly rooting herself in the 1950s while playing the "devilishly delightful" Sister-Woman "Mae" in the Antaeus Company's acclaimed production of

Cat on a Hot Tin Roof

. 

In between shows, she headed out to Washington, D.C. to represent the Scirens at the

Humans to Mars Summit

, where she spoke on the "Mars and Hollywood" panel with NASA's Bert Ulrich, scientist Peggy Wu, and moderator Ann Merchant of the Science & Entertainment Exchange. You can hear her interview with Mat Kaplan of Planetary Radio

here

(starts at about one hour, 3 min into the segment).

Summer means it's time for big studio movies. Tamara had a blast hosting the Marvel LIVE! broadcasts of the red carpet premieres for Marvel's

Guardians of the Galaxy Vol. 2

and

Spider-Man: Homecoming

.



Gia spent her spring working on a pilot called

Anchors Away

, which she and Tara Jean O'Brien wrote and star in. It's directed by Charles Papert, the DP behind the gorgeously shot

Key & Peele,

and co-stars many familiar comedy faces. See clips from it in

Gia's new comedy demo reel

!

If you're heading down to San Diego ComicCon, catch Gia moderating the Hollyweird Science panel on Thursday night at 7.30P where she'll be chatting with writers and scientists about science in Hollywood.

Check out this clip

from a similar panel she hosted last year at Wondercon.
As always, thanks for your support for what we do! Stay cool and enjoy the rest of your summer!
With joy and popsicles,
The Scirens